---
Natural fibers
We believe in the use of natural fibres. This is because natural fibers are biodegradable. That means that they are capable of being decomposed by bacteria or other living organisms and thereby avoiding pollution. In the end of the life cycle they will always return to nature. This is in contract to synthetic fibres such as polyester, which won't biodegrade and pollute our planet instead.
For the same reason we try to use as much pure fabrics as possible and not mix them up with other (synthetic) fabrics. For example: 100% wool, 100% silk, 100% and 100% cupro. Up til 2% of stretch is allowed and won't disturb the recycle process or biodegradability.
Approximately 90% of our collection exists out of natural fabrics.
---
Material goals
We have made a list of which fabrics that Studio Heijne should prioritize and not prioritize. This list also describes which materials are more important than others, but also which materials are banned.
In the list you can see how much of the materials we use today. We strive to only source materials from the PRIORITY box and the GOOD box.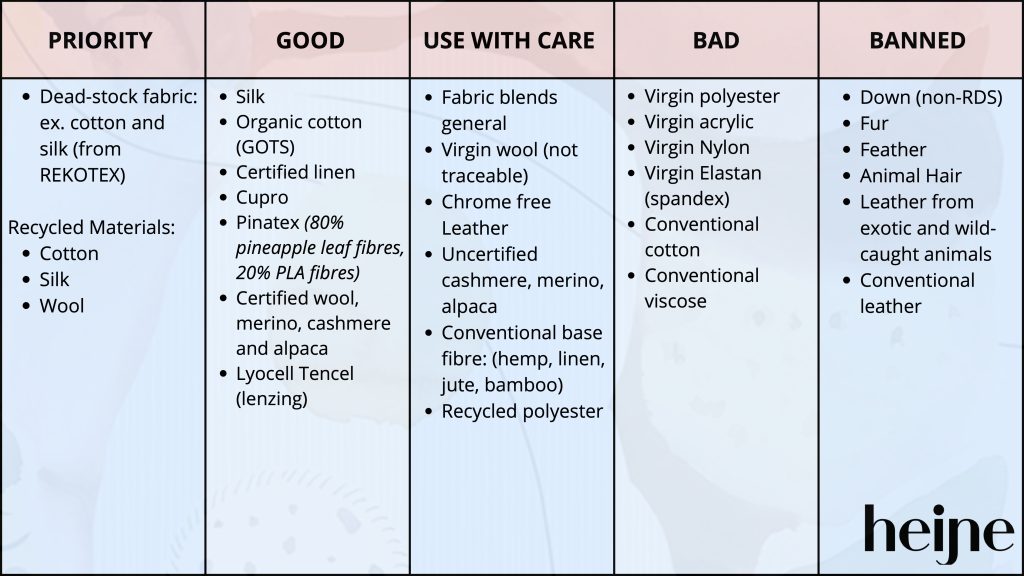 Today the spread of fabrics in our collection is divided according the following percentage:
Priority fabrics: 20%
Good fabrics: 67%
Use with care fabrics: 11%
Bad fabric: 3%
Banned fabrics: 0%
Our goal is that by 2030, 100% of our fabrics will de durable (from the Priority and Good fabrics boxes)
---
More about our fabrics
Silk:
Silk is one of our main qualities. It's not only an amazing and beautiful quality but is also sustainable. For instance it's made of natural fibers and therefore biodegradable. Additional the production process is relatively harmless to the environment. Read all you need to know about silk (and more) in this story.  
Dead stock denim and other materials:
Cotton is simply a heavenly, wonderful, comfortable and practical material. But unfortunately, it is not quite as kind for the environment or for those who grow it. We use cotton, which is over produced by Italian factories, meaning that they are left-over fabrics. Studio Heijne buys the fabrics through Swedish company Rekotex. We are proud to be able to take care of these beautiful denim fabrics without using new resources. See one of our jeans made from dead-stock cotton here.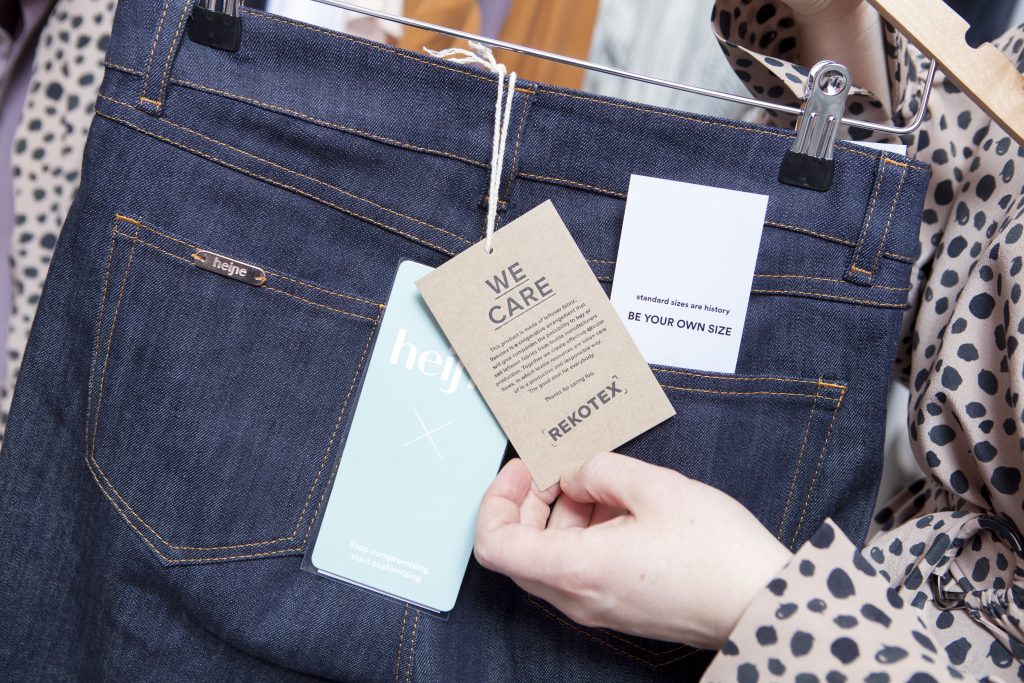 We use other deadstock materials such as a polyester/silk mix, silk jacquard , a cotton stretch fabric, wool stretch suiting fabric and wool mixes.
In total approximately 20% of our collection is made of dead stock qualities. Our aim is to extend the use of dead-stock materials for as many suitable products as possible.
Lyocell:
Lyocell is a more sustainable version of better-known viscose. Fibers are derived from sustainable wood resources, harvested from certified and controlled sources using a closed loop production process. Additionally, the production process is also closed loop. That means that 99% of the chemicals and water used I the production process are used over and over again. See our shirt made from Lyocell here.
Pinatex:
Piñatex is a natural, innovative and patented new material similar to leather. It's made from pineapple leaf fibers, which are the by-product of the pineapple harvest. No extra land, water, fertilizer or pesticides are required to produce the material. Pinatex is GOTS certificated. See our Piñatex skirt here.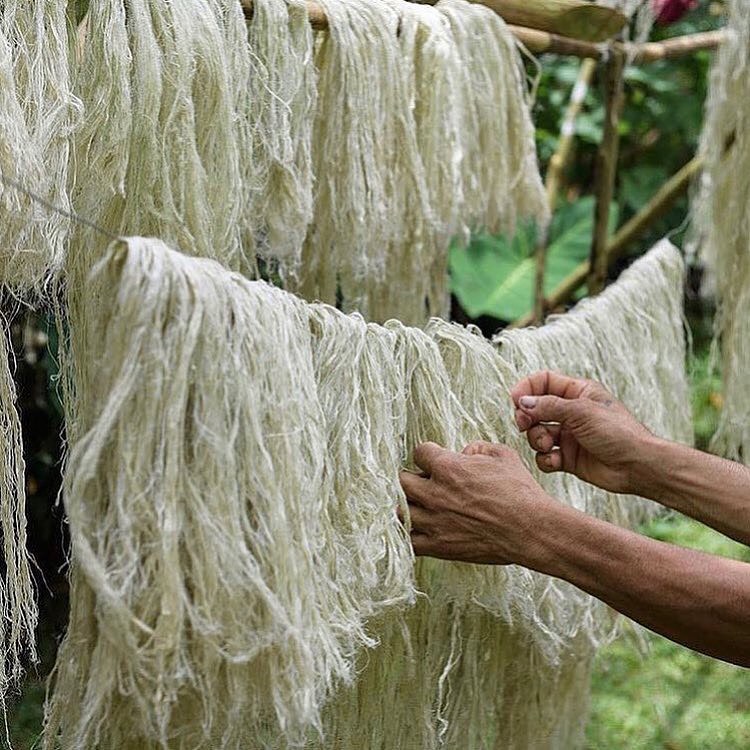 Wool:
Wool comes from sheep and is therefore a natural fiber. Wool is one of the smartest functional materials available: it keeps you warm and dry, but at the same time ensures that you do not get sweaty. Wool breathes, just like all-natural materials, and also has temperature-regulating qualities. Wool is durable, functional and from an environmental point of view better than for example cotton. See one of our wool trousers here.
Cupro:
Cupro is a "regenerated cellulose" fabric made from cotton waste. Cupro is, similar to Tencel, produced in a closed-loop system that reuses water and chemicals over and over again. It's breathable like cotton and soft like silk and drapes beautifully. That's why cupro is often used as a vegan and machine-washable alternative to silk. See our cupro dress here.