In this story we tell you all important things you need to know about silk and more.
Read our whole article or scroll down to the chapter of your interest:
How is silk made?
Why is silk sustainable?
Why is silk exclusive (expensive)?
What's the difference between ecological silk (or so called peace silk) and conventional silk?
What kinds of silk are there?
The benefits of silk
How to take care of silk?
How to remove stains from silk?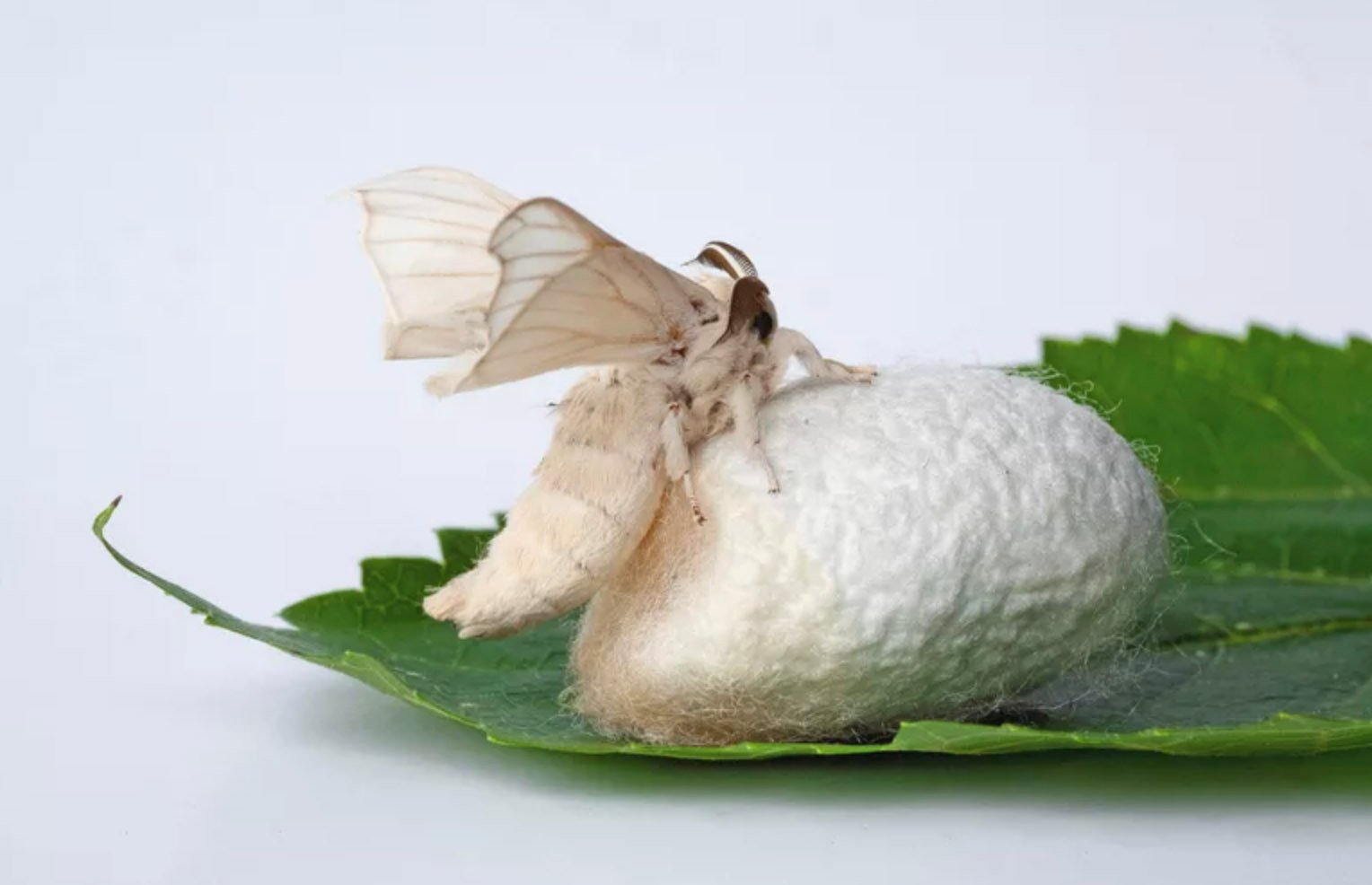 1. How is silk made?
Silk is made from the cocoons of the larvae of the silk moth.
The process of making this fantastic material is following: A larvae from silk moths is eating mulberry leaves for approximately 30 days. When it is satisfied it starts to spin a cocoon. The cocoon exists out of one long thread. Before the cocoon is opened again by the larvae (to become a silk moth) they are gathered and boiled. The thread from the cocoon will be unrevealed and together with other cocoon threads it will make one silk thread.
FACT: Did you know that it takes 1700 to 2000 cocoons to make one silk dress!
2.Why is silk sustainable?
The process of making silk is 100% natural, no amount of chemical induction or synthetic methods can be used to speed up the process of mother nature. This is the reason why it's sustainable.
3. Why is silk expensive?
Silk is expensive, because the procedure of producing silk (described in How is silk made?) is long and can't be speeded. It's also an intensive manual working process to prepare the silk threads that are woven or knitted to make silk fabrics.
4. What's the difference between organic and conventional silk?
Organic silk is also called peace silk. The difference with conventional silk lies mainly in the life cycle of the silkworm. Instead of boiling the larvae, which will kill it, a hole is made in the cocoon and the larvae can come out and live another 7-14 days, before it dies of natural causes. Opening the cocoon means though, that the silk thread is broken. Therefore are the threads from every cocoon much shorter.
Organic silk with the GOTS certification also includes ethically sustainable working conditions during the whole process of garments manufacturing.
5. What kind of silks are there?
There are a few different types of silk, such as Mulberry (90% of the silk) and wild silk. These names tell you what type of larvae the silk comes from.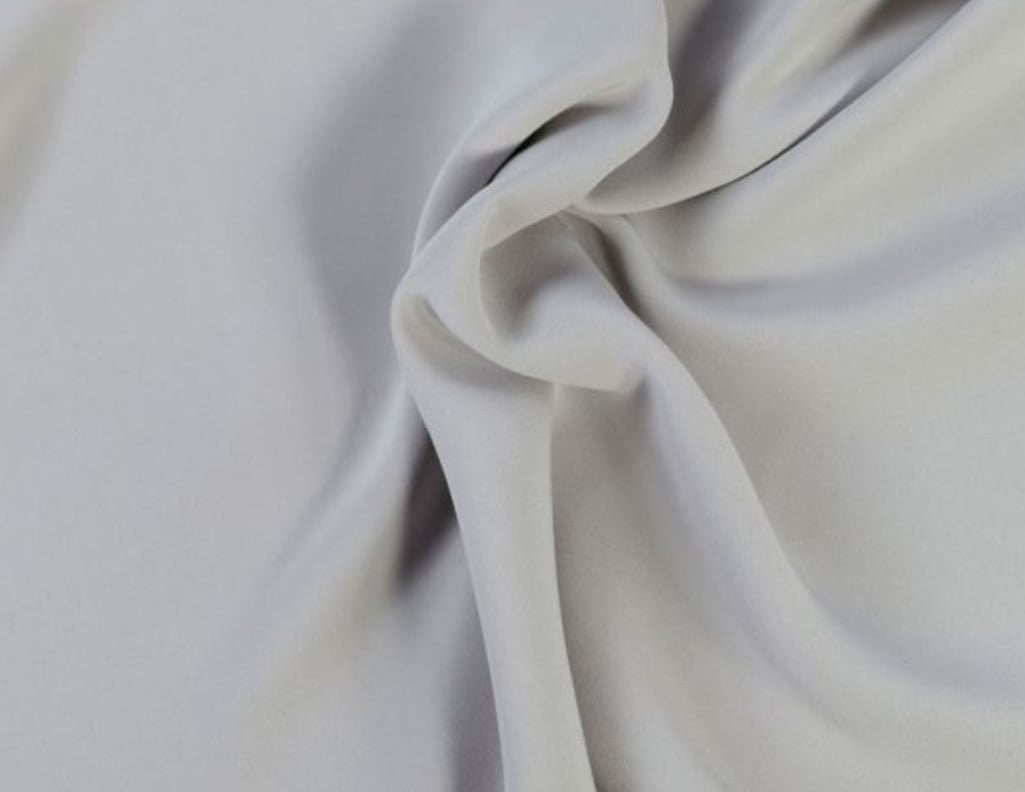 Secondly you have many different kinds of silk fabrics.
The mosts common ones are Charmeuse, Habotai, silk Crepe and Crepe de chine, Chiffon, Dupion and Organza, to name a few.
These names tell how the silk threads are woven and every fabrics has it's the specific drape and look of the fabric. In this article I won't go deeper into the different types of silk , because that would be a story on it's own.
6. The benefits
Silk has many good qualities and some qualities which might be less easy to handle.
The benefits are:
It keeps you warm and cools you down when needed.
It's very breathable, which makes it a good fabric for example face masks.
Another quality which makes silk a good choice for face masks is that its Hydrophobic, meaning that droplets will not penetrate the fabric easily.
It's made of protein, like our own hair and nails, and therefore very gentle to the skin.
Because silk doesn't react with your body enzyme it is a fabric expensively used in the medical world to support healing processes. For example during surgery.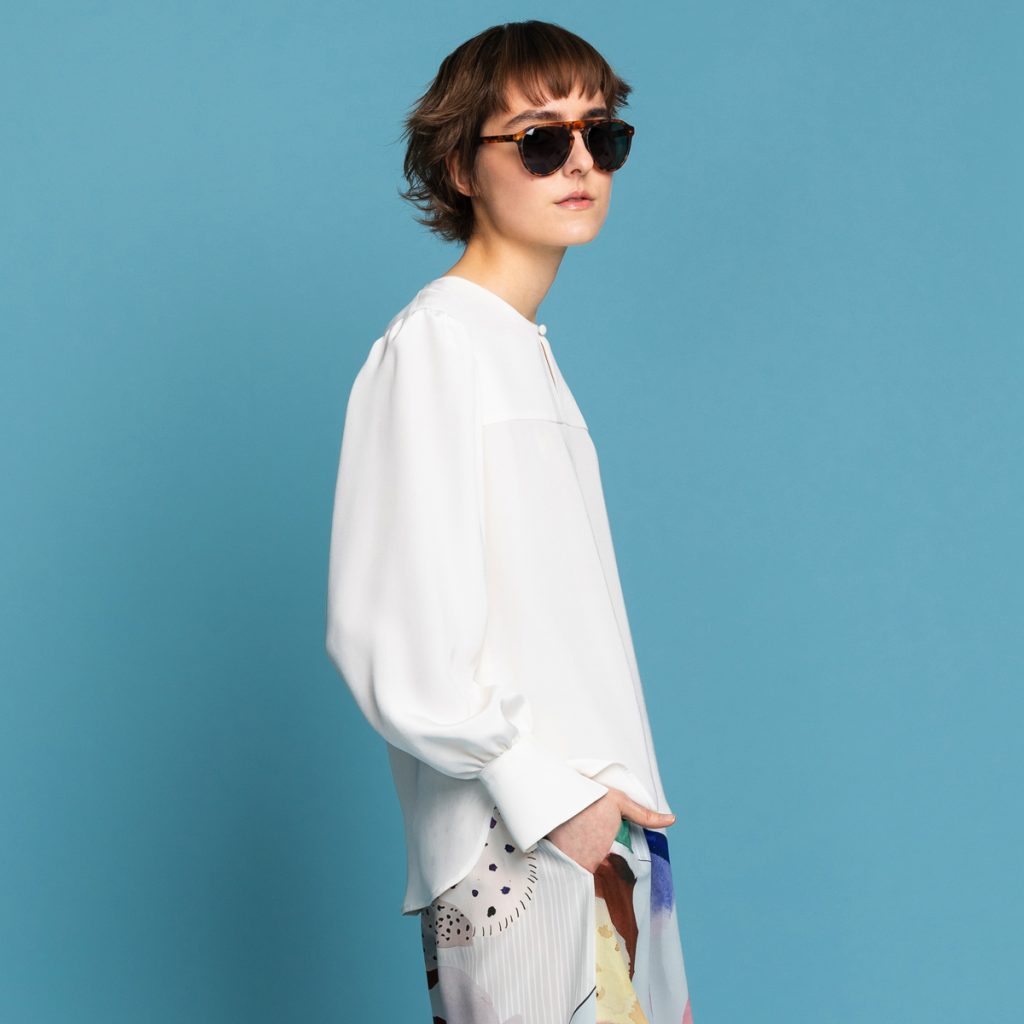 Are there any disadvantages?  We can name a few;
Most, but not all, types of silk easily get creases.
Even if you can hand or machines wash most silks, see chapter 7, it takes a bit more effort. Because you have to use a special detergent and wash the garments separately. And after washing, ironing is a must.
If the garments get a stain, you have to treat the whole garments, not only the stain. That's because you get circles around the stain if you only wash the stained part.
7. How to take care of silk?
Because this anti bacterial material naturally breaks away mites, dust and other particles, it doesn't need to be washed as often as other materials. It is often enough to weather your garments a few hours. For a fresh scent we recommend to spray linen water on the garments after weathering. Like for example this one from The Steamery.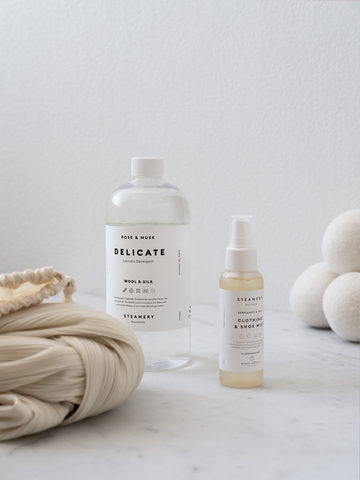 Other tips: 
Avoid exposing the fabric to alcohol-based products like perfume and hairspray.
Do not hang the garment directly in the sunlight for a long time, the colors can change and turn yellow.
Whether you can wash the garment with water or not depends on the type of silk fabric and garment. Sometimes the laundry advice says, "dry clean only". Then it's best to submit the garment to a (environmentally friendly certified) dry cleaner.
If you have a simple garment, a top or simple dress without drapes, you can usually hand wash with enzyme-free washing detergent such as the Steamery detergent from our assortment.
We recommend washing in the washing machine. If you have a modern washing machine, it's gentler for the garment to wash it with the silk program compared with using hand wash. After washing, much of the excess water is gone and you can hang the garment directly on a hanger to dry.
Always wash colors separately.
Use a laundry bag to protect the garment.
Hang the garment on a hanger to dry.
Ironing can be done with high heat and steam, while having a cotton cloth in between the iron and the silk garment.
For more information and tips on how to wash (hand- or machine) silk, read our " BEST WAYS TO WASH SILK"  story.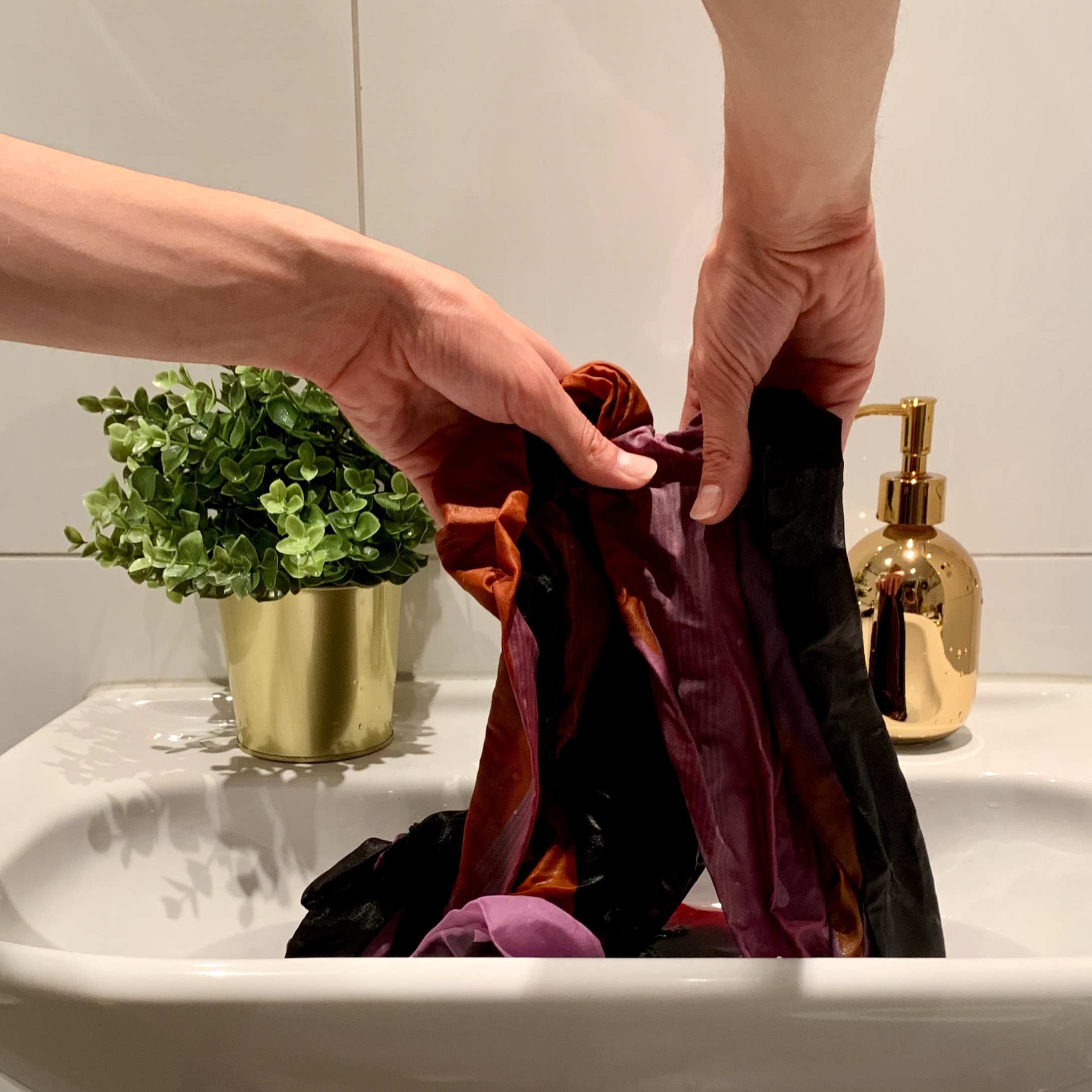 Thanks you so much for reading our complete silk guide. Hopefully you got some helpful tips! Let us know what you think in the comments.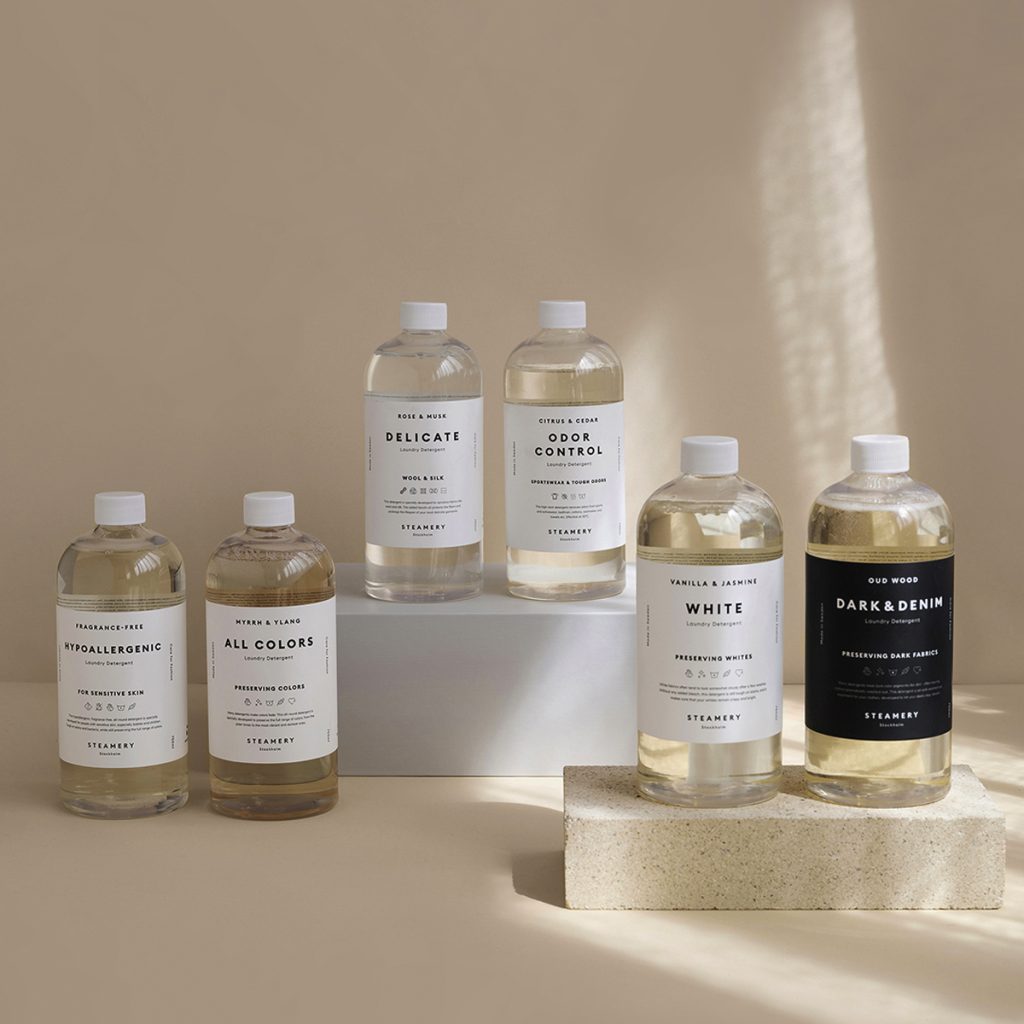 Last but not least, find more garment care guides and tips here:
5 reasons to steam your clothes