Åsa is stylish and inspiring woman and we are very happy to have her as our customer.
Read more
about
her style and how she personalized her Studio Heijne dress.
Åsa lives in Stockholm, where she also works as a teacher.
Can you describe your style?
I always dress depending on my mood. I can easily tell you what I don't like. That would be romantic floral patterns mixed with ruffles. I prefer a bit tougher look. On daily bases, I have to make sure that what I wear is suitable for my working environment. In my profession you cannot be very nicely dressed. The clothes have to be durable, since they are often washed. Also, it's almost impossible to keep them clean and neat for too long. Actually, they get dirty very fast, since the premises are messy from all the outerwear coats and shoes. And besides, I have to be able to carry books, toys, computers and other materials that we use daily in the classroom. So I often wear jeans, which I combine with a sweater, or a top and a jacket over it. That's why I like to spend more time on selecting clothes for special occasions. And I usually choose something different than jeans, like a skirt or a dress. But without any ruffles or lace, because I like cooler look.
What is challenging for you in finding the right clothes?
For me, the biggest challenge is finding the materials I like. Usually the clothes look very nice in the store, but wearing them doesn't feel good. Besides the material, the fit is very important too. Some garment can lose their shape after the first wash. I always choose what I think suits me, my body and my appearance, rather than following the latest trends.
How do you deal with this?
I shop for clothes with good quality. I look for timeless pieces, not clothes that are fashionable only at the moment. Over the years, I probably became more consistent and certain in my personal style.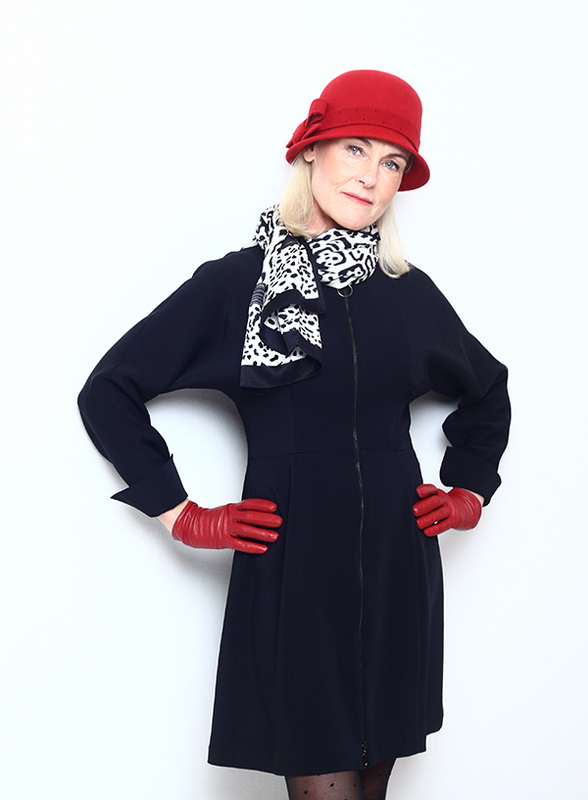 You have a personalized dress from Studio Heijne.
Which dress you have chosen and why?
Well, when I first saw the Philosophy dress from Studio Heijne, I was  immediately hooked. I simply loved it, and it almost felt like "mine". When I tried it on and I felt the fabric against my skin, it sealed the deal. The dress is well tailored, with a fitted waist and a slightly loose skirt, which suits me very nicely.  The smart details, such as the cuffs and the zipper, give the dress the little extra tough look. Overall, it's the ultimate combination of a somewhat more elegant style with a cool edge.
How did you personalize your dress?
Wendy helped me in finding the perfect fit for me in the concept store. I was in between two sizes, so she measured and photographed me. And later they sewed the dress tailored for me. Choosing color was easy, since I love wearing black as a base and styling it with colorful details. It's a simple style that can be varied.
And the result…
I'm very happy with the result! The dress is so practical. It can also be worn as a long jacket, with something slightly more colorful underneath.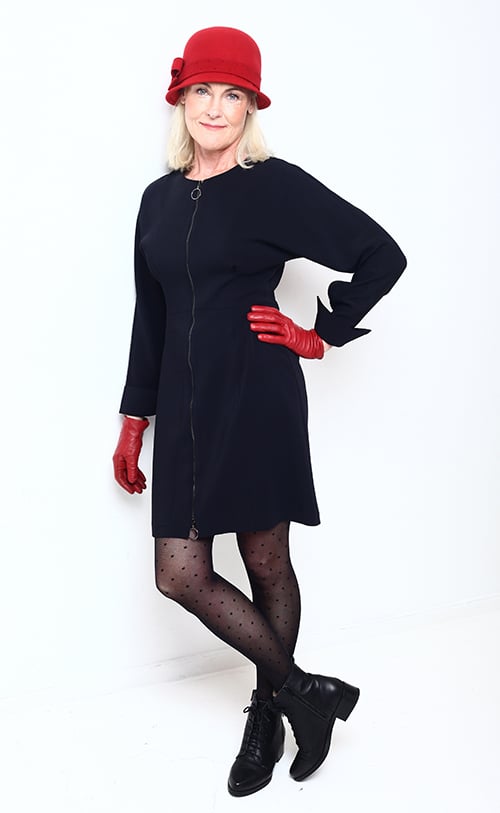 How are you wearing your dress?
I always feel dressed for the occasion when I am wearing the dress. Sometimes I like to add little flair by wearing a scarf over it, or some other colorful accessory. But because the dress is so stylish in itself, I only use details to accentuate it. I feel very comfortable and confident in my Studio Heijne dress.
Photography by Model House