The Little Black Dress called Sunday
In this blog I will write all about our 100% customizable Little Black Dress Sunday. Sunday dress is designed with the idea of a modern little black dress. A dress which is versatile and which you can wear during the day and the evening. You can wear it for example to the office, during dinner parties or on Sunday brunches.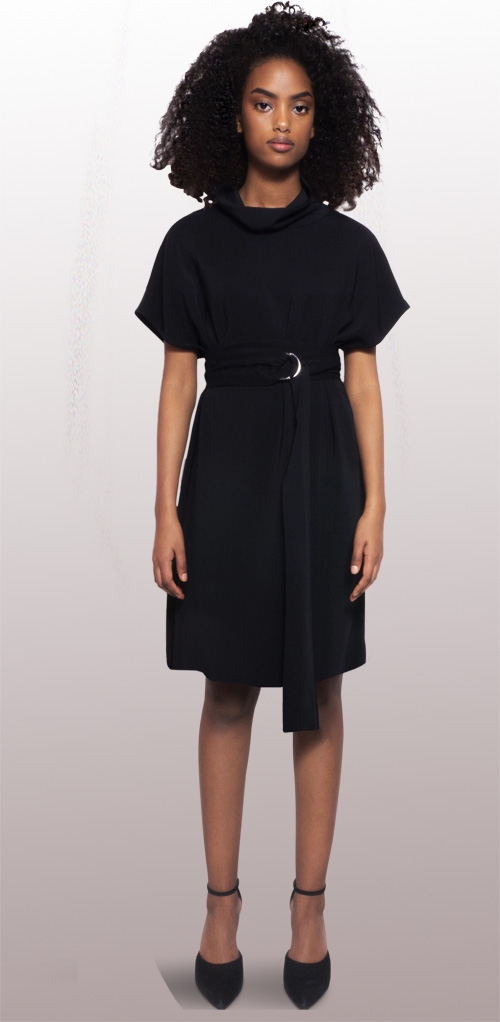 Flattering fit
When designing Sunday dress, it was important for me to make the fitting flattering for different body types. The shape is quite straight and works very nice for straighter body types as well as curvy bodies. We have tested Sunday dress on different women (and men) including myself with beautiful results.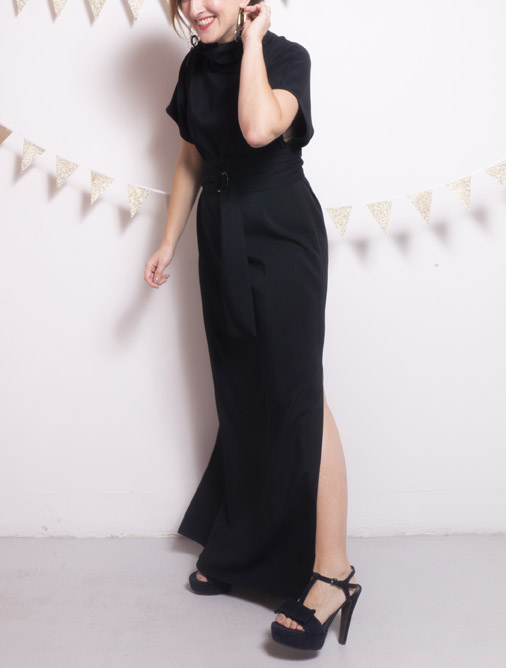 Because firstly every woman has difference preferences and secondly different occasions ask for different looks we offer customization. Choose for example the cowl neck, which goes great together with the short kimono sleeves. Or choose a round neck, we think that fits all body types. If you want to cover up you arms in colder times or just because that's your thing, choose the cascading puff sleeve.
The length
A Little Black Dress wouldn't be perfect if the length is not perfect. The great thing with Sunday dress that it looks fantastic in any length. It's really up to you to choose your favorite length. If you choose from the standard available lengths, don't forget to fill in your own length in the size charts. Because we will adjust the length of the dress, so that the dress length for your dress will look exactly the same on you as on our model.
However, I recommend to not limit yourself to the standard lengths on the picture! For example, get your favorite dress from your wardrobe and measure that specific length. Or measure the perfect length on yourself. See how to that on the following video.
video: Measure the length of your dress
When you found the perfect length, just write the measured length in the purchase note. This note turns up in the purchase process after you have added the product to your chart. We will contact you to confirm the length after purchasing.
The fabric
Another thing which makes this little black dress flattering is the fabric. I decided to use our exclusive Italian Cady Stretch fabric, which is a medium heavy fabric with a fluent drape. It has a bit of stretch, which makes it not only flattering, but also very comfortable.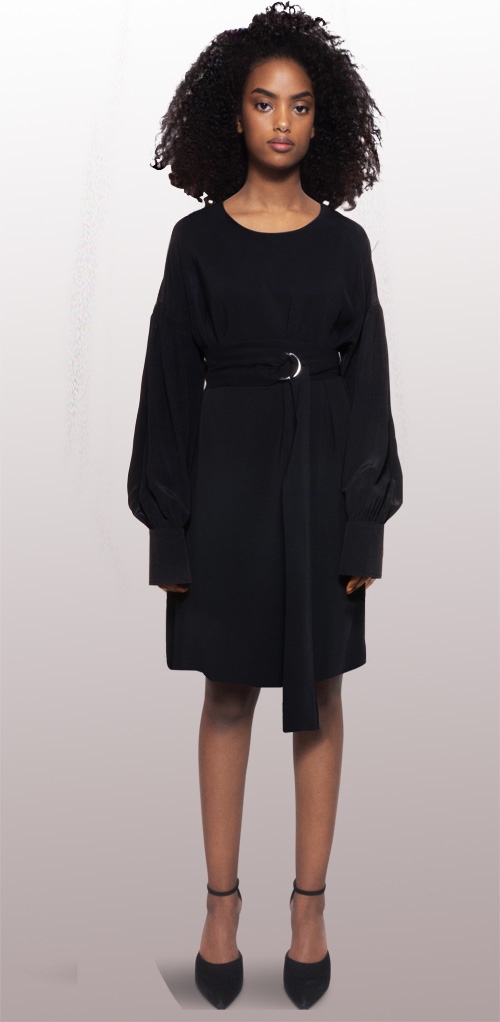 How to style Sunday dress?
You can wear Sunday dress with or without belt. For you, who wants to emphasize the waist, the belt is perfect. Without belt, it's great for you with a straighter shape. Another thing which also works great with Sunday dress without the belt is layering with trousers. Wear the dress over trousers with a similar drape in the fabric and with flat shoes. And voila, there you have your casual office look!
Some days you might want to add some color to your black outfit.  Adding a colorful scarf is the easiest way to achieve that. Either tie a small bandana scarf around the neck or in your hair, or drape a large scarf nonchalant around your shoulder.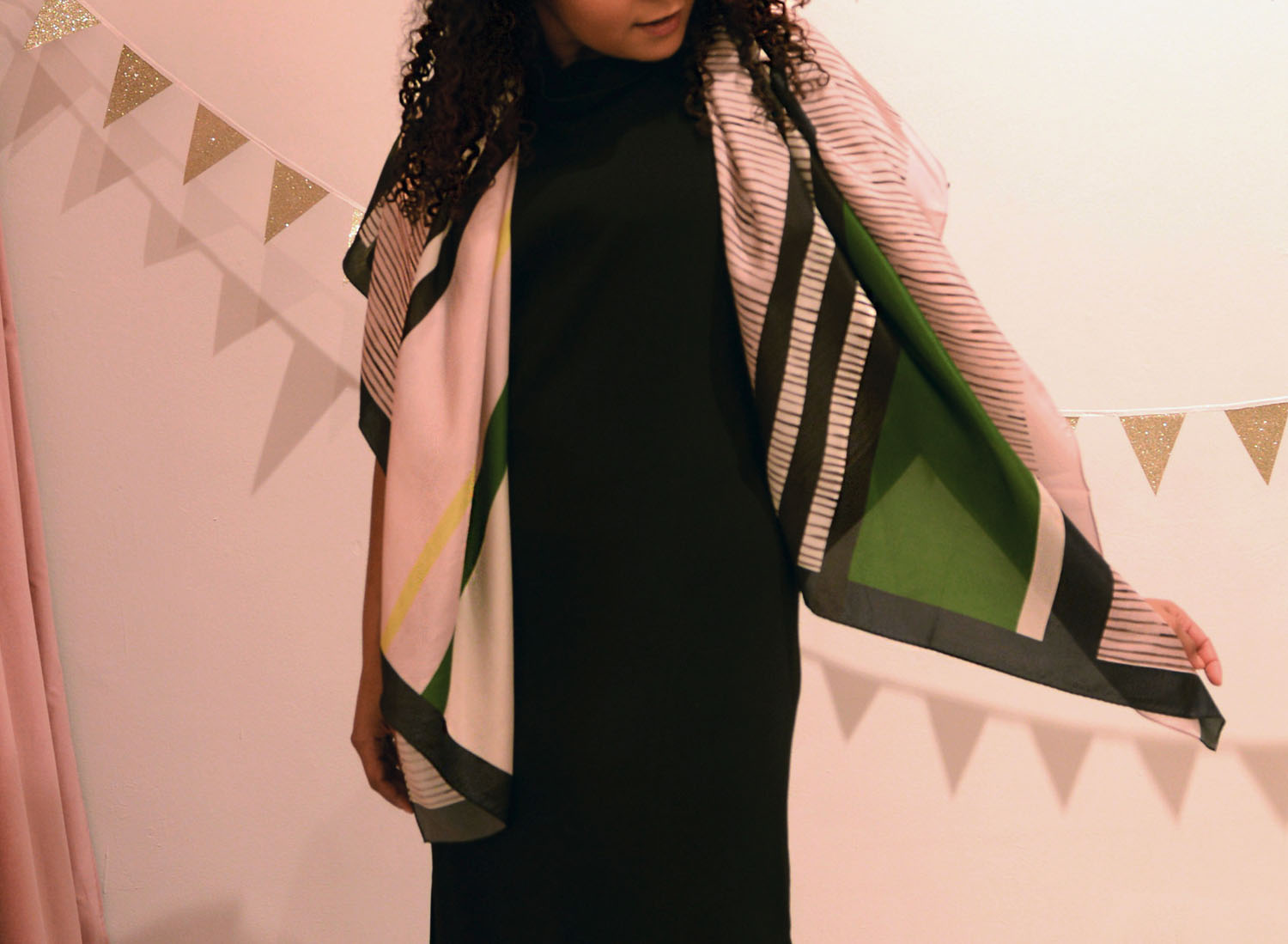 The great thing of a Perfect Little Black Dress is that it works with all sorts of shoes. For a comfortable and cool, modern look combine with sneakers. For the office, flat men shoes or any other flats work great. Boots are great, especially good looking in my opinion if you choose a longer length for the dress, so there is no bare leg visible. And for more elegant occasions or if you simply want to look taller, heels are amazing. Try heels in a different color than black for a eye catching accent.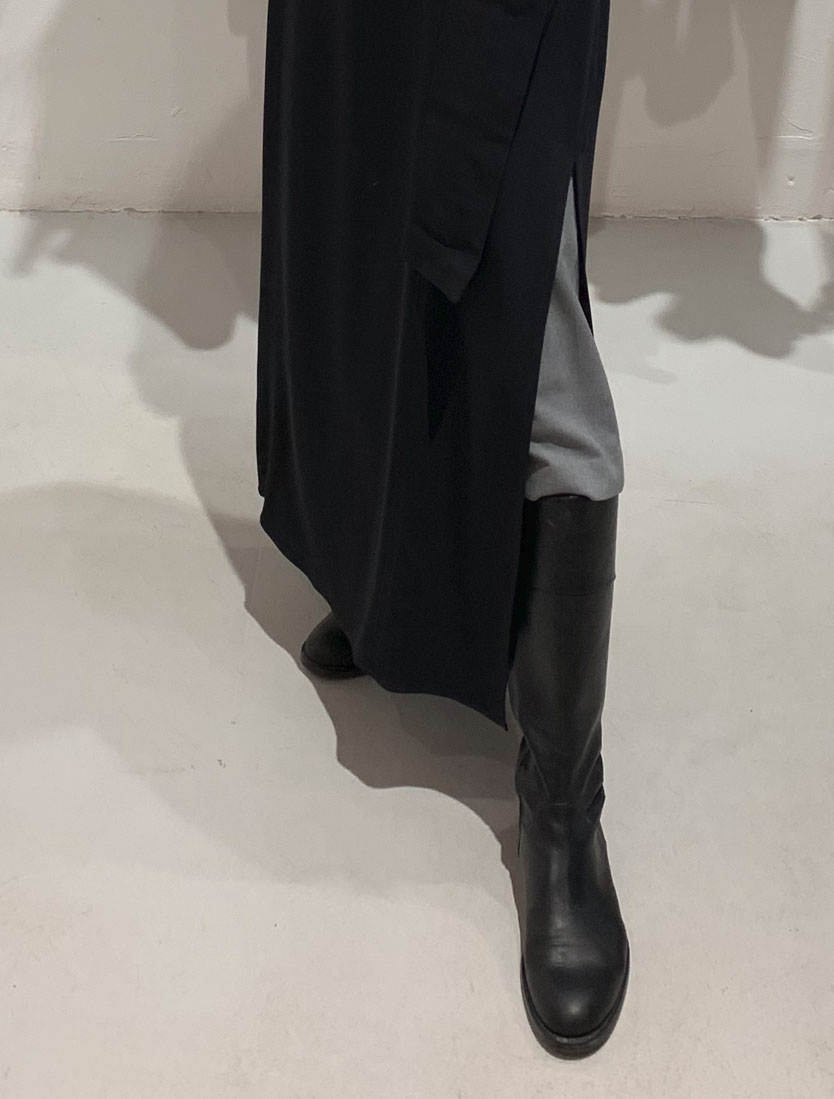 Care tips for Sunday dress
First of all, this Little Black Dress is designed with a loose-fitting armhole and therefor unpleasant odors will not easily get stuck in the fabric. We recommend weathering the dress first and then spray some linen water for a super fresh scent.
Small dried spots can often be taken away by gently rubbing the fabric with another clean part of the same fabric. Try it, it really works! If the stain doesn't disappear you can use a wet cloth. But please rub gently.
If you have to wash the Italian fabric, we recommend dry cleaning. I have tested washing in the wash machine, and it is possible when there is no other choice, but I think the glisten in the fabric and the hand feel lose their exclusive surface.
I think this is all that you need to know about Sunday little black dress. Let me know in the comments if you have any questions/comments or write me a note!