How to treat stains on silk
We got a lot of questions about how to remove stains on silk garments. That's why in this blog we will focus on how to remove stains. We've been trying and testing out stain remover products and we will share what we've found works best. Furthermore, below you find a guide for how to treat stain on silk garments.
Test: Which stain remover to use?
To remove stains there are natural remedies and chemical based products. They come as bar or liquid soaps, as well as sticks and sprays. We've tested a few products to see what works best for silk garments and different types of stains such as ketchup, fat and etc. We used organic bar soaps and chemical based products available in the supermarket. It's fair to say that some of them worked really well. Some didn't succeed to remove the stains. First see the product we use. Then, look at the result in the table below, or scroll down to read which remedy works best for different stains.
The products we tested
As a sustainable company we wanted to test organic options and hoped for their success. We tested different organic soaps such as Galltvål (bile soap bar), Wie Gallseife (bile soap bar) and Sodasan Fläck Bort Galltvål (liquid bile soap). All organic and natural sopas made to remove stains as fat, oil, sauce, grass, blood, chocolate etc.
Additionally we tested Vanish, a chemical products, which has a good reputation, but is actually not meant to be used on silk (says on the package). We tried it anyway, after we noticed that the other products don't work as well as we hoped.  We tested the spray on many  different garments made of different types of silk. But also, we tested it on different types on stains such as ketchup, fat and etc. We are very positively surprised by the results of using Vanish on silk! See our test results in the table below.
Remedie
Garment
Stain
Treatment
Result
Recommended
Galltvål
Red silk dress
Fat spot
Pre-treat + Handwash / Machine Wash
Fat stain didn't disappeared
No
Wie Gallseife by Frosche
White cotton trousers
Ketchup stain didn't disappeared
Pre-treat + Hand wash / Machine Wash
Ketchup stain didn't disappeared

No

Sodasan Fläck Bort Galltvål
Light pink dress
Fat stain
Pre-treat + Hand wash / Machine Wash
Fat stain didn't dissapear

No

Vanish
Red Silk dress

Light pink  dress

White silk dress

Fat spot
Pre-treat + Hand wash / Machine Wash
All stains disappeared
Yes
Results
The winner in this test is very clear: it's definitely Vanish.
Truth to be told, the organic bar soaps didn't helped in removing the stains. None of them did make the stains disappear. On the contrary, in some cases it even created a color difference (see photo below). Unfortunately, even though the organic soaps are natural solution they didn't save the garment.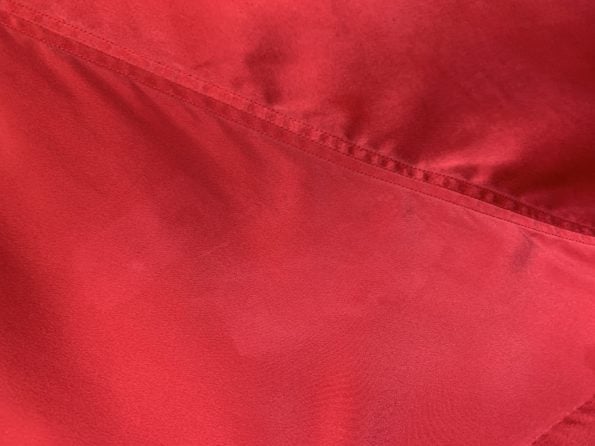 The Vanish spray however, removed all the stains on the silk garments. Moreover it didn't damage the silk fabric. We haven't seen any discouloring on the fabrics either.  We recommend Vanish to use, even for your silk garments. It might not be all natural, but it's more sustainable to actually remove the stain and save the garment.  So we will definitely recommend using this spray.
The results with Vanish
Before: (make-up stains and coffee stains)
After: (the make-up stains disapeared 100%, the coffee stain disapeared 90%)
How  to remove stains from silk fabrics
Our best tip is to use Vanish in combination with hand wash. In general the hand treatment has been better for spots removing, because you can really concentrate on working with the spots. Below you'll find a step by step guide for an easy way for how to treat stains on silk. The same method applies regardless the stains or remedy.
The stain treatment guide
1. Act fast
Try to act as fast as possible if you spot it immediately.
2. Prepare
Vanish says you should apply on a dry surface. Follow that advice and spray first on the dry surface. Make the fabric wet a few minutes after spraying instead.
If you use a soap bar you dampen the soap in cool water and then apply it on the stained spot. If the stain is dry feel free to soak the garment in lukewarm water before you use the stain remover.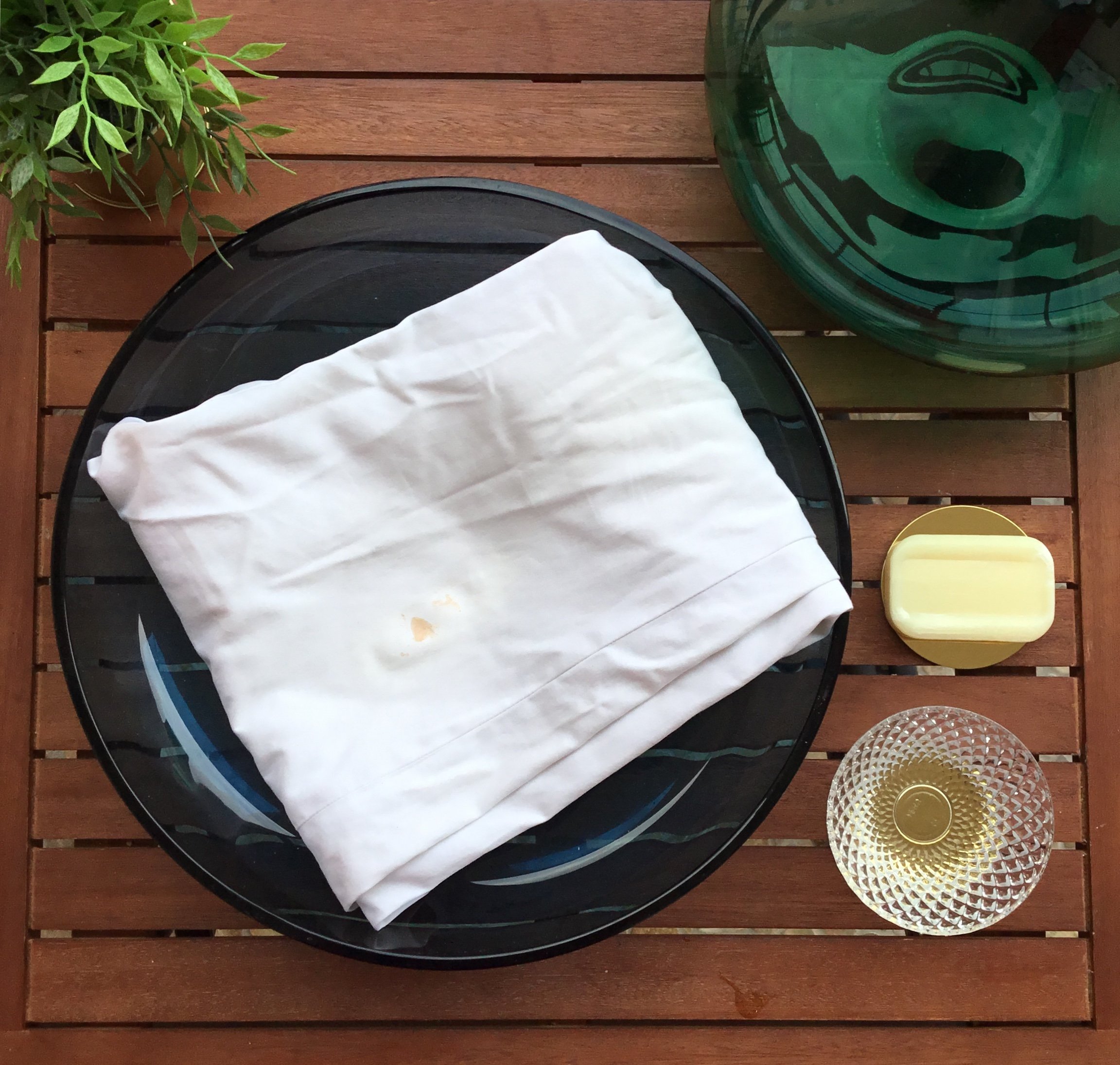 3. Work the stain
Here the stain removing starts. Rub the fabric with the stain gently to another part of the fabric. It's always the best the rub fabric to a fabric, don't use anything else to rub it against. Rub making circular motions with the fabrics. Though, be gentle and don't agitate the fabric. Take a look if the stain completely disappeared. If not, treat it again.
4. Wash
Afterwards, you can either hand-wash or machine wash the silk garments. We recommend hand wash, because then you can concentrate on the stain and just wet the rest of the garment (if it's not dirty). Always use a mild detergent for delicate garments.
If you need to refresh the whole garment use machine washing . Select the delicate cycle – 30 degrees for about 30 min.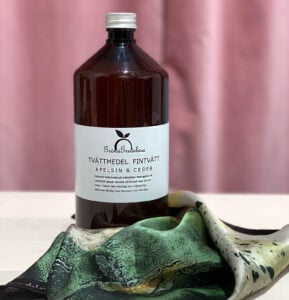 5. Check the result
Sometimes, the first try won't be 100% successful. But, that just means that you should try again. Next time, use a bit more Vanish, rub a bit harder and work a bit harder with the stains. They will dissapear or at least get less visible. It's worth a try, because if you don't, you probably won't wear the garment again. And that would be a pity!
Last but not least, find more garment care guides and tips here:
A general guide: care advice for silk
How to steam your silk garments 
5 reasons to steam your clothes
Best in test: which steamer to buy?
Subscribe to stay updated with the latest garment care news from Studio Heijne.
And please let us know if you find this guide helpful. in the comments. This will help us on our journey to become a valuable resource within sustainable garment care.
Shop garment care products
This blog is written by Viktor Stojkoski.
For more inspiring content check out my platform for fashion and sustainability: