Stockholm sustainable lifestyle
In Stockholm, there are a lot of options when it comes to  sustainable shopping and lifestyle. Whether you're a tourist or living in Sthlm, sometimes it's hard to know where to find them. Especially, because they are spread out all over the city. This guide is a great starting point. Just visit one of the places on this list. Around it you'll find everything else you need. Go through this blog and I promise you'll be ready for your Stockholm visit. Or to go out and rediscover the city!
Sustainable shopping guide start here…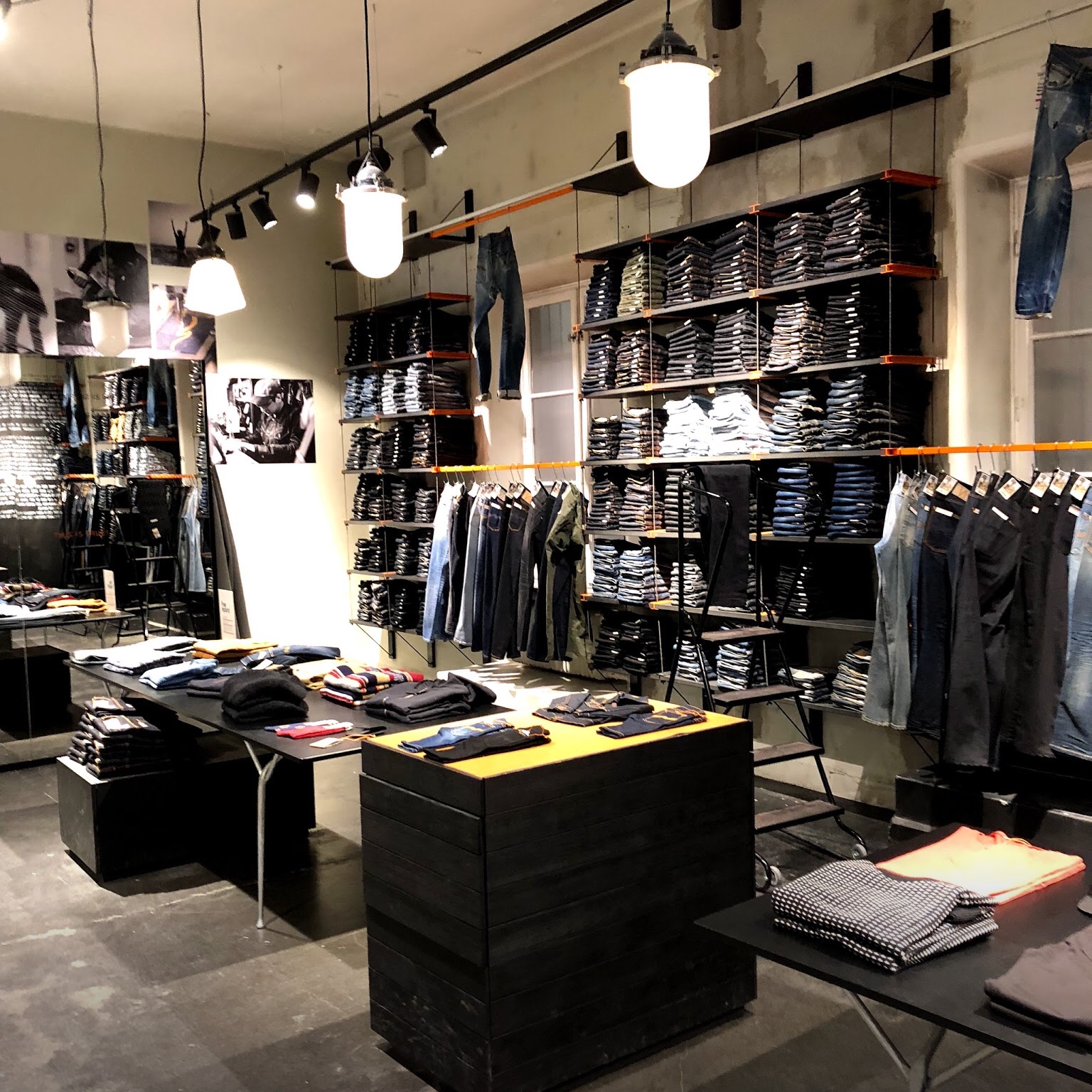 Are you looking for a new or pre-loved pair of jeans. Always, right?   Nudie Jeans pre-loved (second hand) denim is very well curated. Their denim is 100% organic and non toxic. And every pair comes with a promise of free repairs. No matter when or where you got them. If you're close to Nytorget, the first Nudie Jeans shop is around the corner. Their second shop in Stockholm is in Östermalm.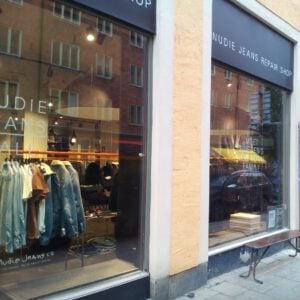 Nudie Jeans store 1
Neighborhood: Södermalm
Metro stop: Medborgarplatsen (and a 10 min walk)
Location: Skånegatan 75, 116 37 Stockholm
Opening hours:
Mon – Fri: 11am–6:30pm
Sat: 11am–5pm
Sun: 12–4pm
Nudie Jeans store 2
Neighborhood: Östermalm
Metro stop: Östermalm
Location: Jakobsbergsgatan 11, 111 44 Stockholm
Opening hours:
Mon – Fri: 11am–6:30pm
Sat: 11am–5pm
Sun: 12–4pm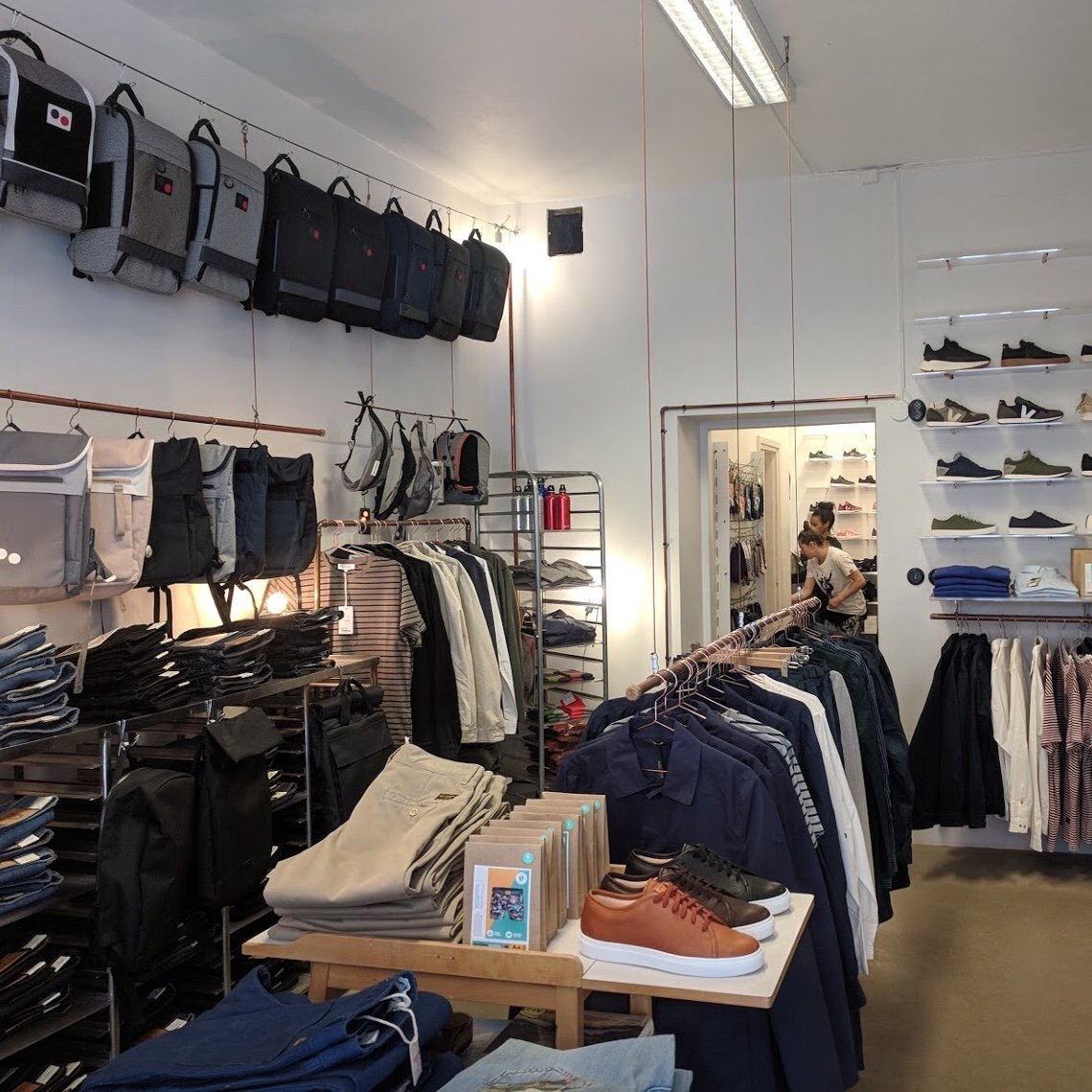 The Adis Gladis shop is located on the Mariatorget metro exit. You won't miss it, because they have the coolest logo on the sign outside their shop. They have a wide range of products, starting from the Veja sneakers to eco lunch boxes. You'll find sustainable alternatives you haven't even thought they exist!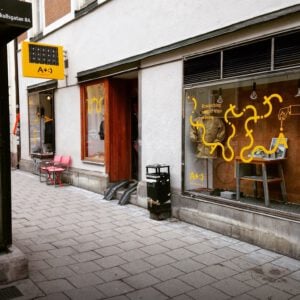 Neighborhood: Södermalm
Metro stop: Mariatorget
Location: Wollmar Yxkullsgatan 8, 118 50 Stockholm
Opening hours:
Mon – Thu: 11am–6pm
Fri – Sat: 11am–5pm
Sun: 12–4pm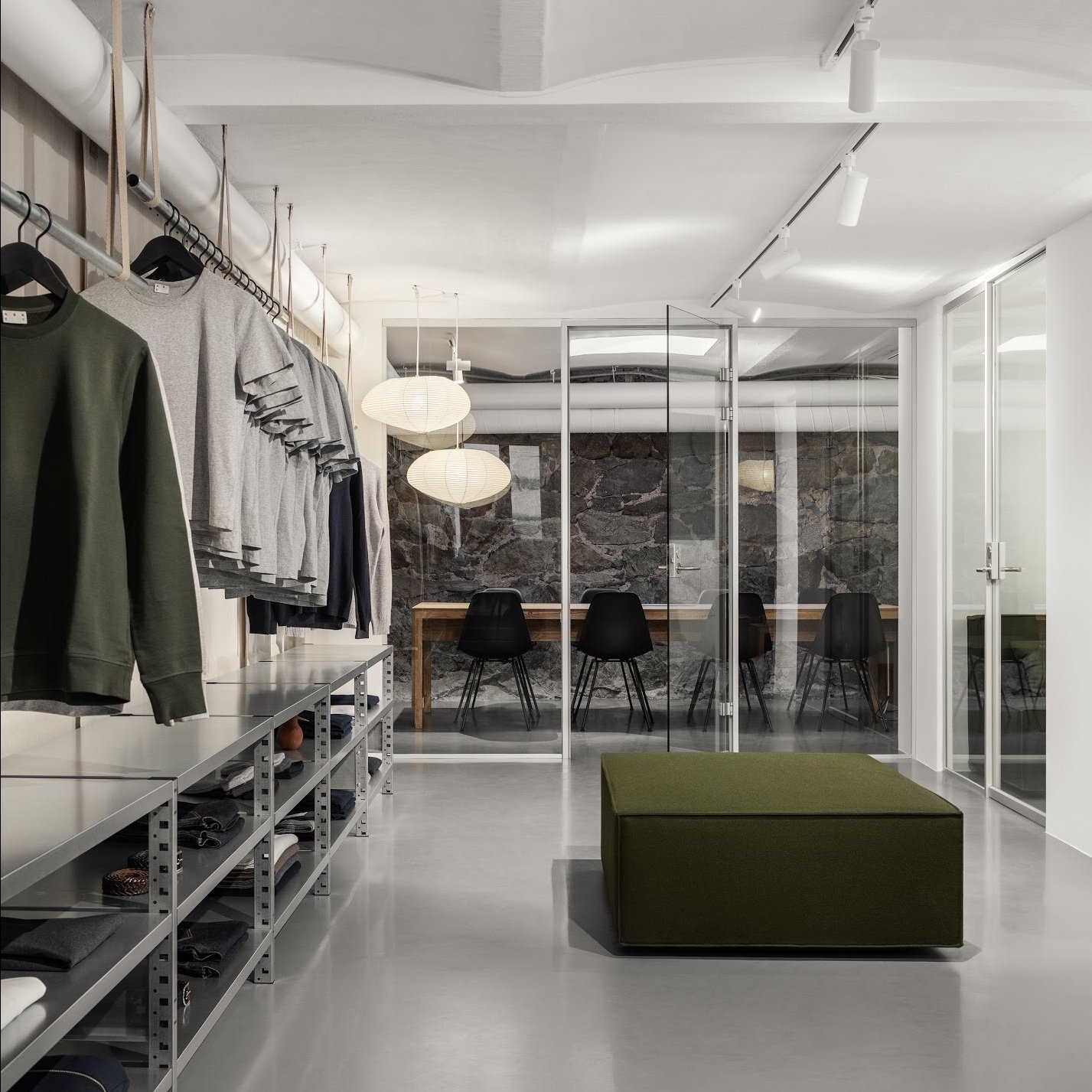 Visit Asket Headquarters & Showroom just off Odenplan in Vasastan. Their luxury basics for men are traceable from raw material and they're fully transparent with their factories. Besides that, their sizing is revolutionary too. Because they offer different lengths in all standard sizes for their t-shirts. Most important, they offer a permanent collection of  basic garments at a good price point.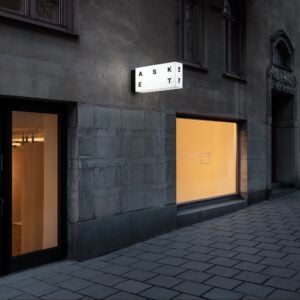 Neighborhood: Vasastan
Metro stop: Odenplan
Location: Dalagatan 27, 113 24 Stockholm
Opening hours:
Mon – Thu: 12–7pm
Fri: 11am–3pm
Sun: Closed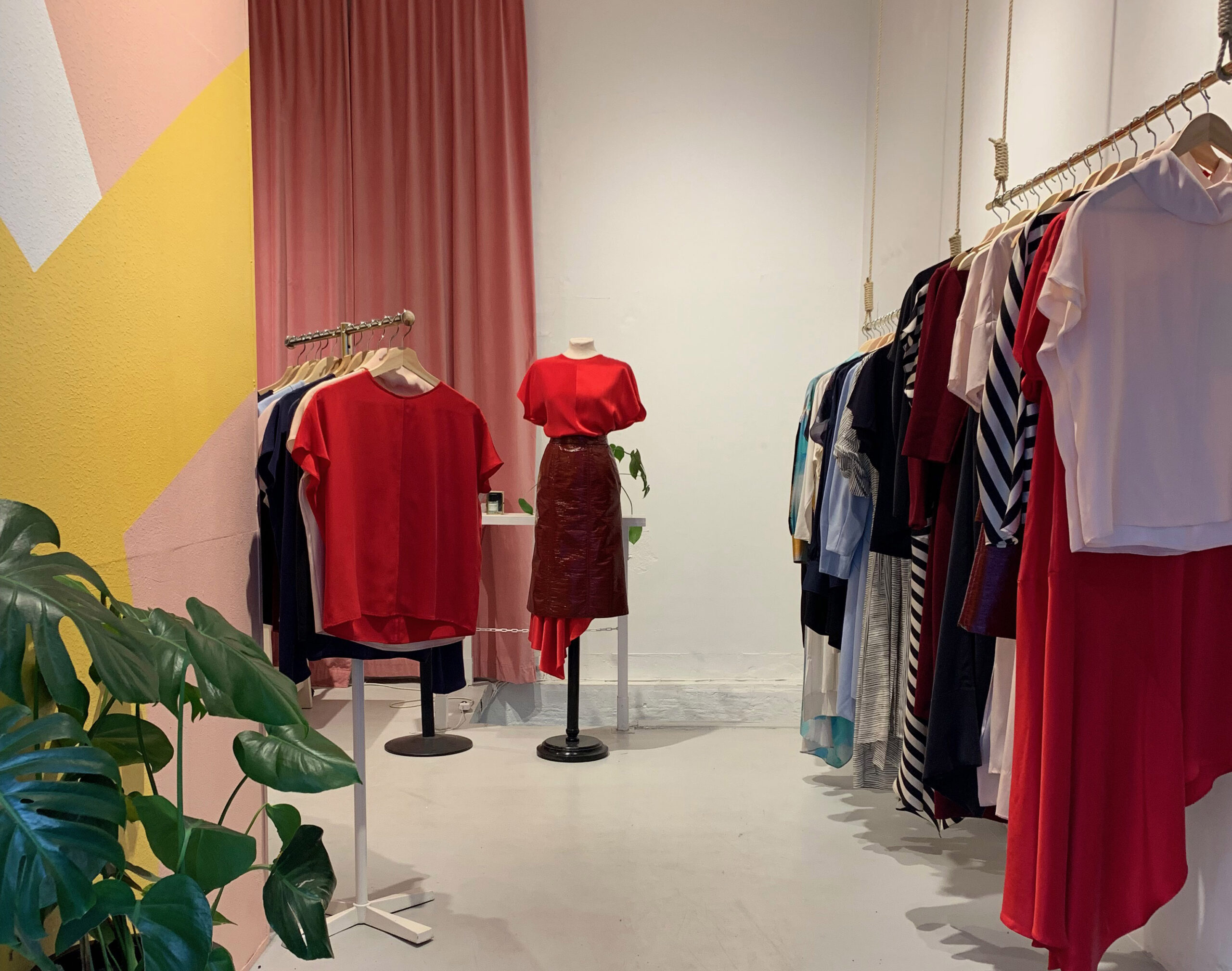 One of my favorite places for sustainable shopping in Stockholm. It's Studio Heijne. Located in the heart of the city center of Stockholm, in the most lively area. They offer made to measure fashion that you can adjust to your personal preferences. You can get measured for bespoke design or you can choose something from the store. Have a mentioned their brilliant silk scarves with amazing graphic patterns. It's possible to even book a visit outside working hours.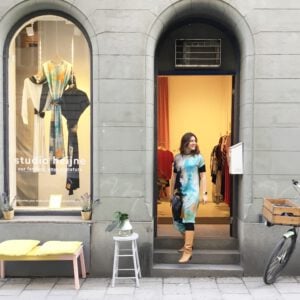 Neighborhood: Norrmalm
Metro stop: Rådmansgatan, T Centralen or Hötorget
Location: Kammakargatan 27, 111 60 Stockholm
Opening hours:
Mon – Wed: Closed
Thu- Fri: 11am–6pm
Sat: 12–4pm
Sun: Closed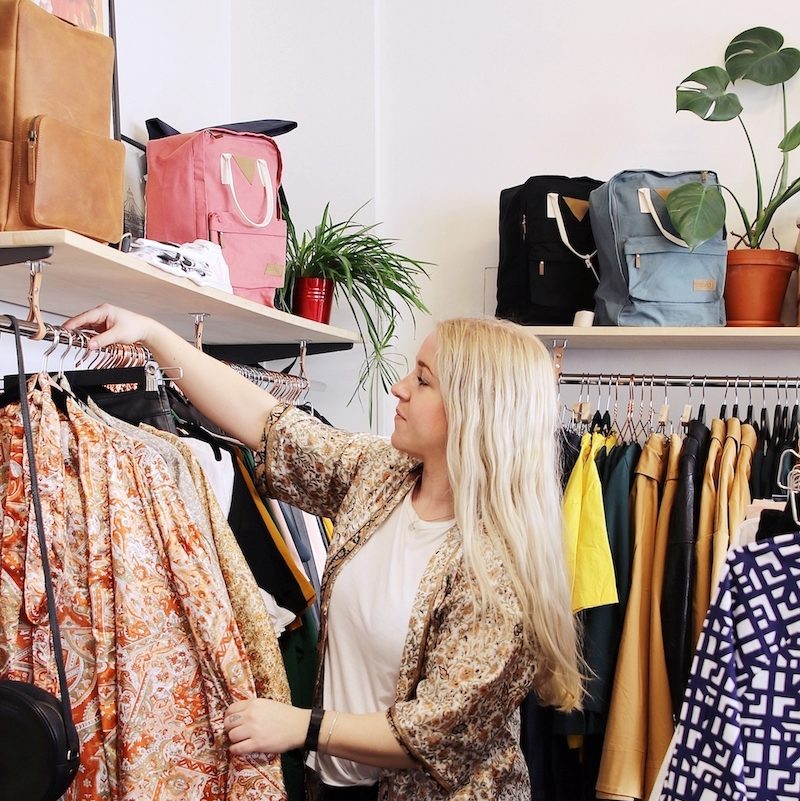 This shop is located just a few minutes walk from the metro station Horstull in Södermalm. And it's a great destination for the conscious consumer. They offer great selection of womenswear & menswear clothing, shoes, accessories and some other lifestyle products.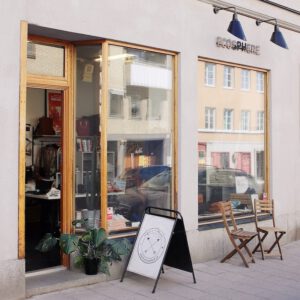 Neighborhood: Södermalm
Metro stop: Hornstull
Location: Bergsunds strand 32, 117 38 Stockholm
Opening hours:
Mon – Wed: 12–6pm
Thu – Fri: 11am–7pm
Sat: 12-4pm
Sun: 12-3pm
I hope you find this guide helpful. Please note that the opening hours may be subject to change.
Furthermore, let me know if you need more tips in the comments below. I'd really appreciate it.
Enjoy your sustainable shopping experience in Stockholm!
This blog is written by Viktor Stojkoski.
For more inspiring content check out my platform for fashion and sustainability: